We began our trip to Scotland/England on Sunday, May 11th by driving three hours from Des Moines to Kansas City airport. From KC, we flew to Newark NJ, arriving within minutes of Nick who was on his way back to NYC from Las Vegas. There was just enough lay-over time to share a quick supper together. What a great Mother's Day treat!
From Newark, we flew to Glasgow, Scotland, arriving nice and tired on Monday, May 12, 7:30 AM Glasgow time.  We met our 16 fellow-travelers from the Kansas City area at breakfast, and did our best to stay awake while exploring Glasgow for the day. We  FINALLY went to bed around 9 PM local time, only to find ourselves wide awake in the wee hours of Tuesday morning!
On Tuesday, May 14, our group led by Sister Therese Elias from Mount St. Scholastica in Atchison, KS,  began the trip to the small isle of Iona by bus to Oban, a town on the Western Coast of Scotland. From Oban, we took a ferry to Fionnphort,  a small village on the Western side of the island of Mull. From Fionnphort, we took  yet another ferry further west to the  isle of Iona, only 1 mile long by 4 miles wide.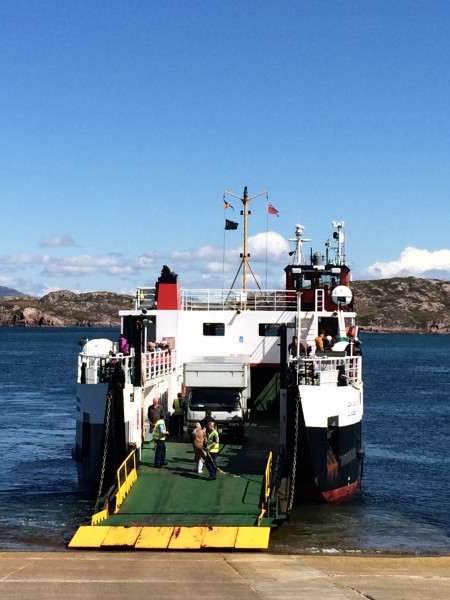 Iona was a center of Irish monasticism for four centuries and is today renowned for it's tranquility and natural beauty. It has a population of about 125 people, most of whom are farmers or work in the small village shops.  We spent 4 nights on Iona, and enjoyed  several early morning runs with stunning new views.  Highlights of Iona included a tour of the Iona Abbey, a group hike to St. Columba's Bay on the south side of the island, community gatherings/prayers/meals, and generous free time to explore the island on our own.
On Saturday, May 17th, we left by ferry and then by bus, to the Holy Island of Lindisfarne,  a tidal island off the northeast coast of England. Holy Island measures 2 1/2 miles from east to west and 1 1/4 miles from north to south. It has a recorded history from the 6th century, and was an important center of Celtic Christianity.  We found the history and charm of this island to be absolutely fascinating.
"Holy Island"  is accessible, most times, at low-tide by crossing sand and mud flats which are covered with water at high tides. These sand and mud flats carry an ancient Pilgrim's Way path, and in more recent times a modern causeway. Warning signs at either end of the Pilgrim's Way path and causeway urge visitors to check tide times and weather carefully before trying to cross to/from the island. Daily tide tables provide safe crossing times that coincide with about 3 hours after high tide until 2 hours before the next tide. Despite these warnings, about one vehicle each month is stranded on the causeway, requiring rescue by the coastguard or helicopter.
On our first Holy Island early morning run, we decided to run across the tidal flats from Holy Island to the mainland of England and back, "just for the fun of it", while the crossing was safe, i.e. tide out. Unfortunately, we mis-understood the tidal charts (BOTH of us!), and headed out across the Pilgrim's Way path towards the mainland. As we were about two miles into our run approaching the mainland, we came across water on our path. At first we figured this was a section of the path where the tide was still moving OUT. But then we could see that the tide was moving IN! Realizing our predicament, we instantly turned around and picked up the pace with rising adrenaline. As we came around a bend towards the island, we could see that water was already invading the final portion of where we had started our run about 1/2 hour earlier. The final 50 yards or so to the island were covered with water and it was still rising. We ran hard, and by the time we reached Holy Island, our shoes and legs were completely soaked. Abit scary, yes, but running "through" the North Sea was strangely thrilling!
This particular run was also unusual because we found someone's credit card and phone laying on the tidal flats about halfway between the island and the mainland.  We took these items with us, and returned them to Shawn, the hotel manager at Lindisfarne Hotel where our group was staying. Shawn was thrilled because the people who lost the credit card and phone had stayed at Lindisfarne Hotel the night before, and had just phoned him to be on the lookout for the missing items. These items could have easily been swept out to sea, but instead they were found:)
On one of the Linisfarne days, we took a day trip by boat to the Farne Islands, the most famous bird sanctuary in the British Isles where we also saw large numbers of Atlantic and Gray Seals.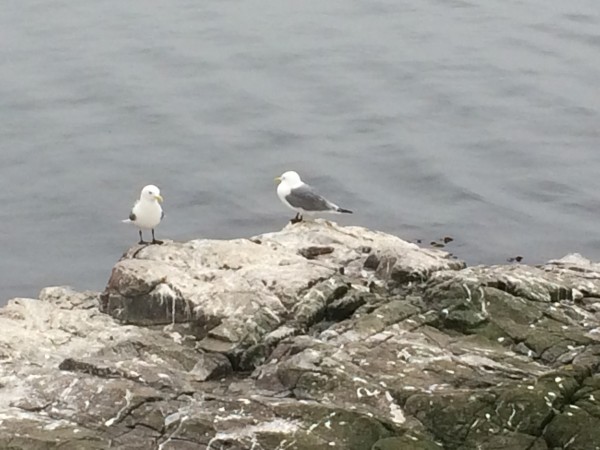 We left Holy Island on Wednesday, May 21st, by bus and arrived to Durham, England by early afternoon. While in Durham, we toured the Durham Cathedral and participated in  the "Eventide Service" at 5:15 PM.
The following morning we left for Edinburgh (a three hour drive) to spend our final night.
No trip to Scotland would be complete without bagpipes! We came across this guy at a reststop on our way to Edinburgh:
Or the sighting of an old fashioned phone booth: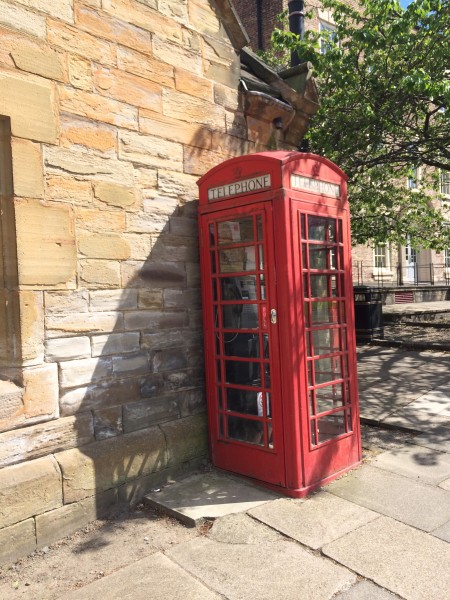 We left Edinburgh at 7:15 AM on Friday, May 23, and after a long day of travel, arrived home to Des Moines at about 10PM Iowa time ((4:00 AM Edinburgh time). Needless to say, we were quite tired and ready to rest after traveling over 20 hours to get home. After a good sleep last night, we both feel quite rested and ready to re-enter life in Des Moines.
This morning, I started making necklaces out of rocks found at St. Columba's Bay: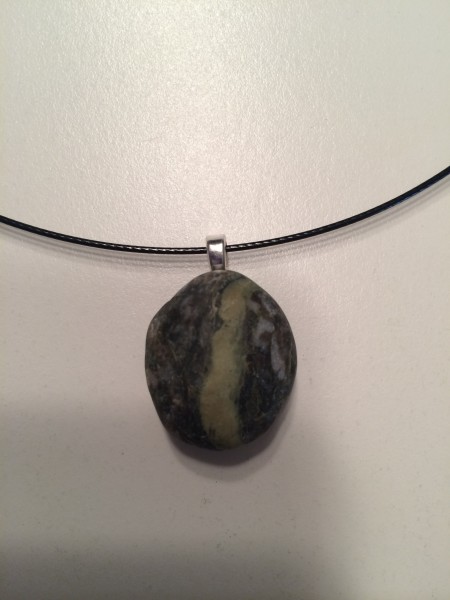 We had a great trip and learned a lot. We met some really neat people along the way. And the spiritual journey we've been on for the past 10 years or so, has been affirmed in a new and meaningful way.