LAST weekend, Kristin and Curt, Emma and Claire passed through Des Moines, IA, enroute from Grand Rapids, MI to Sioux Center, IA, for a family reunion on Curt's side of the family. We enjoyed a few "book-end" days with them, before and then after the Kuiper family reunion. On one of the days, we went to Big Creek State Park, about 1/2 hour from our home, to watch Carrie VQ (one of our running friends-she did Boston 2003 with me) compete in the Big Creek State Triathlon (Olympic). This was Carrie's 2nd triathlon, and she was defenitely inspiring! We packed a picnic lunch and enjoyed watching Carrie finish, playing on some super-cool wooden playground equipment, and then having a picnic together: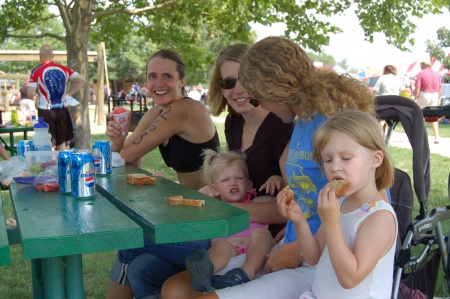 The rest of these pictures were taken post-Big Creek Picnic, at our house:
!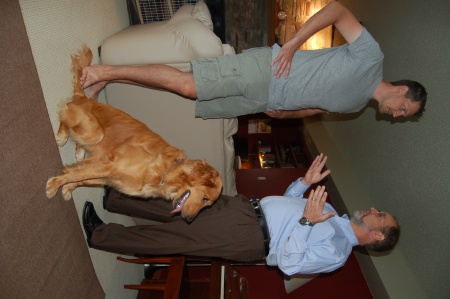 Wonder what they are talking about???? Bet it's about management:)
THIS weekend (we just got home), we went to Racine, WI, to visit my parents. My Dad, who has been painfully walking "bone-on-bone", had recent ankle surgery which involved the fusing of several ankle bones and insertion of numerous pins and plates. He is starting to feel better and sports a bright red cast, with color chosen by 6 year old neighbor girl, Sophie (she visits 807 Perry daily to visit and to get a cookie or piece of candy). He is quite a sight: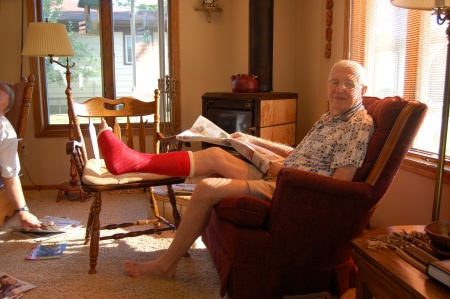 Another thing that happenend this weekend, was the "unveiling" of my parent's new RED phone. We are remiss, because we did not take a picture of their brand new "Juke" ph0ne in red! All of us siblings pitched in to provide them with this phone and a two year Verizon plan. The juke phone came programmed with all important contact numbers with pictures already in the phone, as well as several play-lists for Mom (along with ear-buds) since she walks several miles every am. It was fun to watch her receive several cell phone calls during the lunch we shared at Ivanhoe's on Main St. in downtown Racine yesterday. We sat outdoors on patio tables, and while waiting for our food, she receieved or made several calls from various states. This will truly be a way for her (and my Dad) to feel connected to their larger family, which is quite geographically scattered.
We will be home this coming weekend, and looking forward to it. First though, a week of paying attention to our work here in Des Moines.