Time has been flying, because it is already a week ago that we visited Sioux Center with Salome and Isaiah (married in Grand Rapids, MI, on June 28th), and also Salome's Mom, Comfort. We spent a few days in Des Moines first, so Comfort could see where Salome has spent a good portion of her life since age 14. We shared breakfast with Virg and Dorothy Dykstra, from MDRC, who helped us parent Salome. We had lunch with Dr. Morten, Salome's Doctor since she arrived to Des Moines. Dr. Morten used to be my Dr. as well, until he became medical director of Mercy Hospice-Johnston. I transfered to another Dr. when it became difficult to be his professional colleague and patient at the same time! Last Friday, we did a "Tour Des Moines" which included numerous "drive by's": Johnston High, where Salome did three years of high school, Subway, Fareway, Target, HyVee…..all places where she used to work, Childserve where she used to volunteer, and Meredith Drive Reformed Church and All Nations Church, where she used to worship. It was a fun time. On Saturday AM, we drove to Sioux Center. It was really fun to see our old house in Sioux Center, where we have memories of Comfort and Simon, son Toryem (2) and baby Salome sharing supper with our young family. The house has really changed!!!!!
……….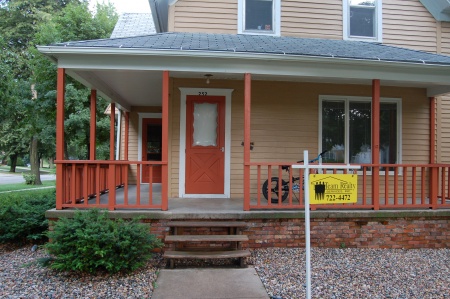 While in Sioux Center, we stayed with Howie and Vicki Hall, who hosted Salome's sister, Peace, several summers ago, and who were involved in Comfort's original arrival to Sioux Center almost 25 years ago.
.
They remembered Comfort arriving to Sioux Center on a snowy frigid January day, wearing only sandals on her feet. On Saturday evening, we ate at Pizza Ranch, where old friends of Comfort were able to join us.
We toured Dordt College, the Alma Mater of Salome and also Simon, her father, 23 years ago:
On Sunday, we worshiped at Covenant CRC in Sioux Center,, where many individuals and families still remember the Toryems. Comfort brought words of greeting from Nigeria to the Covenant community. Very powerful, to see a glimpse of how God has been working over the years.
Comfort will be returning to Nigeria in early August. Salome and Isaiah are not sure what their future holds. Salome has two years of law school to go. She and Isaiah may have a move in near future, as she has applied for transfer to AZ, Oklahoma, TX, and Las Vegas. If accepted, she and Isaiah will likely move, with hopes that there will be more options for Isaiah (who has almost finished the PhD in systematic theology from Westminster Theological Seminary) and also for Salome after she graduates from law school. Wonder what their future holds.